Watkins Outdoor Advertising
Serving the Springfield/Ozark area since 1998, Watkins Outdoor Advertising has led the area with its quality billboard visuals that is sure to get your message across
6 DIGITAL FACES TO CHOOSE FROM IN SPRINGFIELD, MO​
Each Watkins Outdoor billboard is at key high-traffic intersections with stop lights for increased viewing time in the Springfield-Ozark area. All boards are on newer single poles, angled slightly to optimize the view and readability of each board.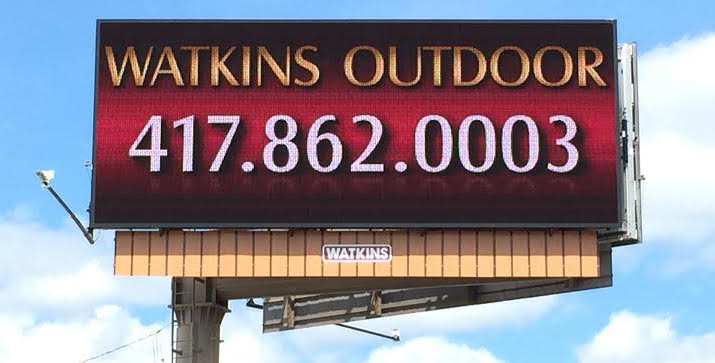 Interested in pricing for our digital boards?
Visit our Rate Card page to learn more or call 417-862-0003 for more information.
Although we no longer have any vinyl signs available, our customers can buy vinyl directly from Independent's Printing located in Hannibal, MO: 12oz black-backed flex vinyl printed on a new UV printer, using UV ink for 70¢ / sq ft with free shipping.